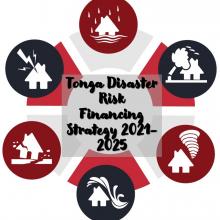 Tonga is a Polynesian Pacific Island country with a population of 104,000. The Tongan archipelago comprises 169 islands, of which 36 are inhabited. Because of its location and small size, Tonga and its population are highly vulnerable to external shocks, including from natural disasters and epidemics, and to climate change and its long-term effects, such as sea-level rise and increasing intensity of tropical storms. Tonga's vulnerability was clearly demonstrated in 2020, when the COVID-19 pandemic and Tropical Cyclone Harold severely affected its economy.
Proactive public health measures to contain COVID-19—a declaration of a state of emergency in March 2020, international border closures, strict social-distancing measures, and domestic travel restrictions— combined with a global recession severely affected Tonga's tourism-dependent economy and government finances. A reduction in economic activity decreased fiscal revenues at a time when additional public expenditure was required for the health sector, households, and businesses and to stimulate the economy.
While Tonga was facing the COVID-19-induced crisis, a severe (category 4 when it hit Tonga) tropical cyclone hit in April 2020, leading to significant damages and losses. The winds and an accompanying storm surge and simultaneous king tide1 caused widespread flooding, substantially damaging public infrastructure, housing, private infrastructure, and agriculture.
As a result of the dual shocks in 2020, fiscal year 2020 gross domestic product (GDP) (ending June 2020) contracted by 2.5 percent, which is expected to be followed by a further contraction of 3.5 percent in fiscal year 2021 (IMF Asia and Pacific Dept 2021). This double blow affected the nation while it was recovering from Tropical Cyclone Gita in 2018, the largest natural disaster in Tonga since 1982, which caused damages and losses of 38 percent of GDP and affected more than 80 percent of the population. This cascade of shocks vividly illustrates the risks facing Tonga and the resulting challenges for the country's economic and fiscal policy makers.
Realizing the risk Tonga is facing, the government has prioritized a need for "A more inclusive, sustainable and effective land administration and environment management, with resilience to climate change and risk" under the Tonga Strategic Development Framework 2015-2025 (Ministry of Finance and National Planning 2015).
The Emergency Management Act (2007) guides Tonga's overall management of disaster risk, and the National Emergency Fund Act (2008) and participation in such initiatives as the Pacific Catastrophe Risk Assessment and Financing Initiative (PCRAFI) are targeted efforts to strengthen preparedness and minimize the financial effect of disasters.
Building on the existing legal and policy framework for disaster and disaster-related financial risk management, this disaster risk finance strategy (DRFS) brings together various ongoing and planned efforts from different sectors to quantify, reduce, and mitigate disaster-related financial risk. Developed by the Ministry of Finance (MoF), it provides a framework for coordination between key stakeholders when implementing concrete activities with a common objective: to strengthen the financial resilience of the Tongan government, households, and business to disasters.
Please find attach below for more information regarding Tonga Disaster Risk Financing Strategy 2021-2025