Official exchange of letters between the Government of Tonga and the Government of Australia: Budget Support & additional financing.
Before the end of the financial year, Australia once again has shown their support towards the Government of Tonga through the provision of not only budget support, but also availing further funds to strengthen Tonga's covid-19 preparedness.

Due to close collaborations with Australia there has also been additional financing made available to help with the ongoing Nuku'alofa Network Upgrade Project (NNUP). This project aims to reduce line loss by upgrading both high and low voltage power lines in the immediate Nuku'alofa area.
Finance details:
A disbursement of AUD1.75 million on the achievement of the Joint Policy Reform Matrix (JPRM) triggers which the World Bank has confirmed

Strengthening Public Finances;

Enhancing Resilience to the effects of climate change and disasters; and

Supporting Economic Recovery, skills and labour mobility.

A disbursement of AUD5.0 million from the Government of Australia's (GoA's) Pacific COVID-19 Response Package, in response to the fiscal crisis Tonga is undergoing due to COVID-19; and

A Direct Funding Arrangement Agreement of AUD$5.3million between Government of Australia and Government of Tonga for the purpose of contributing to the financing gap of the NNUP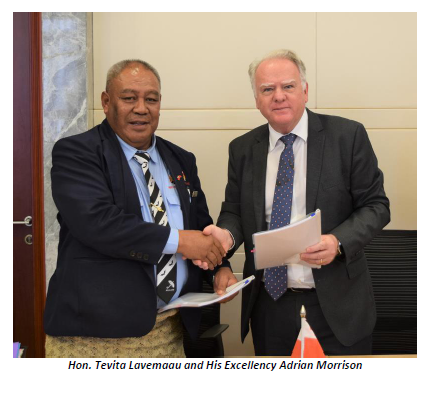 It is especially welcoming to know that this support will not only strengthen Tonga's energy resilience during the onset of natural disasters, but also support Governments ongoing efforts to keep Tonga covid-19 free.